Colin Hendry urges action over botched-op surgeon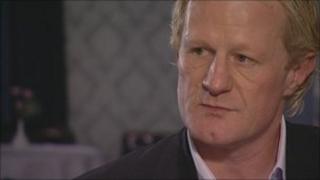 Former Scotland footballer Colin Hendry is urging Swedish authorities to take action against a doctor who botched cosmetic surgery on his wife Denise.
Gustaf Aniansson punctured Mrs Hendry's bowel nine times during liposuction surgery at a Lancashire clinic in 2002.
Mrs Hendry, 43, died in 2009 during an operation to correct the damage.
Mr Aniansson is still practising in his native Sweden. Authorities there told the BBC too much time had passed for them to be able to take action.
'Someone will be unlucky'
Per Anders Sunesson, of Sweden's National Board of Health and Welfare, said if it had the information in 2002, and had carried out an investigation, it may have been able to revoke his licence.
The surgeon has refused to speak to the BBC.
Mr Hendry, who lives in Lytham in Lancashire, said: "The period of time is irrelevant. What has been done has been done.
"If there are 16 cases where they have been able to claim damages from him and there have been 46 cases where they have had an issue with him then they have got to look into that."
Dundee-born Mrs Hendry underwent the surgery at the private Broughton Park Hospital near Preston.
Lawyers secured a six-figure damages settlement in November 2006.
Mr Aniansson voluntarily applied to be removed from the General Medical Council's register in the UK in 2003.
The mother-of-four died at Salford Royal Hospital in July 2009 after bacteria spread from her stomach to her brain causing meningitis, an inquest heard.
Coroner Jennifer Leeming cited brain inflammation, blood clotting from a drain inserted into her head to relieve pressure and meningitis as the medical cause of death.
Mr Hendry, a former Blackburn Rovers, Manchester City and Rangers player, said he thought issues with Mr Aniansson would "rumble on" and he hoped nobody else would come to serious harm.
But he believes "someone is going to be unlucky".
He said he was not surprised to hear the surgeon was under investigation again.
A woman in Sweden, who underwent cosmetic breast surgery and liposuction to her abdomen, has made a complaint about him.