Tarleton jewellers raid car police appeal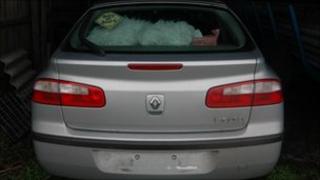 Police investigating an attempted armed robbery on a Lancashire jewellers in which a staff member was shot have appealed for information about a car.
They want to hear from anyone who may have seen a silver Renault Laguna being driven from the raid at David Burns Jewellers on Hesketh Lane, Tarleton.
Three masked men armed with a ball bearing gun and a hammer fled empty-handed at 1100 GMT on Thursday.
A staff member was shot with plastic ball bearings in the chest and ear.
Police recovered the gang's getaway car, a silver Renault Laguna, which was abandoned just off Taylors Meanygate by the gang's waiting driver after it had been driven down Hesketh Lane and Moss Lane.
'Out of place'
Its number plates, which police believe were false, had been unscrewed by the offenders before they ran off.
Detectives want top speak to anybody who finds the discarded plates, which bear a number similar to MX52MLL.
Det Insp Graham Hill said: "We know that this car was in the area shortly before the attack and has driven along Hesketh Lane in both directions, turning once at the mini roundabout near to Booths supermarket.
"The car had two white fluffy cushions on the parcel shelf, along with a box of tissues and a 'baby on board' sticker displayed in the back window.
"We believe there were four men on board so someone may have thought that they looked out of place within that particular car.
"The car was found with some mechanical damage and was displaying its hazard warning lights.
"It is likely that they have sustained damage to the car during their getaway and have had to travel at a reduced speed for some distance with their hazard lights in operation."