Lancashire fire crews from Japan reunited with families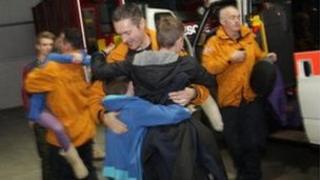 Firefighters from Lancashire, who have been searching devastated areas of Japan for survivors, have been reunited with their families.
The seven men were part of the UK United Kingdom International Search and Rescue (UKISAR) team, which spent a week searching through debris.
They found no survivors of the tsunami and quake, but helped to recover bodies
The crews worked in freezing conditions, overcoming snow and mud and searching amongst unstable buildings.
'Worked relentlessly'
The men were met at Manchester Airport by their families and Lancashire's Chief Fire Officer Peter Holland.
He said: "The tireless work that the UK ISAR team undertook in such challenging circumstances is a testament to their professionalism and selflessness.
"I would like to thank not only those who went to Japan, but also those who provided critical support from the UK to enable their successful deployment.
"Despite cold, hard conditions the team worked relentlessly to search for survivors in the utter devastation left by the earthquake and tsunami, providing much-needed relief for Japan's own exhausted disaster response teams."
The firefighters have been allocated leave to spend time with their families and recover from the mission.
The official death toll in Japan has risen to 8,133, with 12,272 people missing.