New rooms for cancer patient families at Blackpool hospital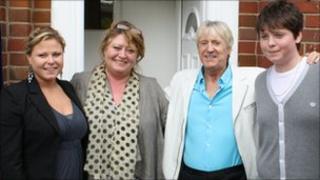 New accommodation for relatives of cancer patients will be officially opened at Blackpool Victoria Hospital.
Duncan House, has been named in memory of Graham Duncan from Barrow, Cumbria, a former patient whose family had to make the 160-mile round trip daily.
After his death his family called for better accommodation and raised funds.
The house was donated by Blackpool Teaching Hospitals NHS Foundation Trust and was refurbished with a £30,000 grant from Rosemere Cancer Foundation.
'Travel ordeal'
Mr Duncan's family had to make the four-hour round trip to visit him undergoing leukaemia treatment almost every day for a year.
Before his death Mr Duncan asked doctors to try to help cut out the struggle of families travelling long distances to see their loved ones in the haematology unit.
His widow Liz Cassells said she was "absolutely delighted" that other families would not have to endure what her family went through.
She said: "It's the most beautiful place. It reflects Graham as a person it's hospitable, homely and safe.
"It's an ordeal to travel such a distance.
"If there had have been somewhere to keep the family safe and together it would have really helped us and now it will help other people."
She added that fundraising efforts were still ongoing.
"Bills still have to be paid, windows have to be washed. It's a home now and we have to keep it going."