Sex offender Gary Wolstenholme sought by police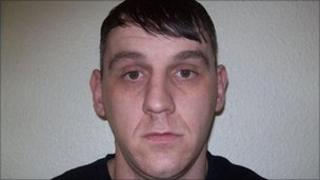 A sex offender is being sought by Lancashire Police after he breached the terms of his licence by leaving an agreed address.
Gary Wolstenholme, 30, a registered sex offender, is wanted for recall to prison after he disappeared from East Lancashire on Tuesday.
Police believe he could be in the Blackpool area and that he poses a significant risk of re-offending.
Wolstenholme was convicted of serious sex offences in 2002.
Det Insp Stephen Dowson said: "I believe he poses a significant risk of harm and I would appeal to anyone who knows where he may be to get in touch with us.
"Sex offenders are managed in the community by police and partners, a system which aims to prevent them committing further offences, but if they do not comply with the obligations of their licence or sex offender prevention order, then we will take robust and positive action to locate them, as we are doing in this case."
Wolstenholme was originally from the South Shore area of Blackpool.