Blackpool scout headquarters in second arson attack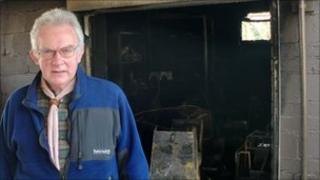 A scout centre in Blackpool has been "devastated" by fire for the second time in less than a year.
Firefighters were called to the Scout District Headquarters in Heyhouses Lane, St Annes, in the early hours.
Buildings on the site burned down in July and the scouts were in the process of fundraising to rebuild them.
The tool store suffered the worst damage. Marita Kirkham, from the scouts said: "There is nothing left - just lumps of metal. It is a big setback."
A 17-year-old and a 21-year-old from the local area have been arrested on suspicion of arson.
Mike Smith, the district commissioner for the scouts, said: "When I arrived there were four fire engines here and I thought goodness me will there be anything left?"
Lots of tools used to maintain the site, a sit-on mower and cans of petrol were stored in the building and were all destroyed.
Mr Smith said: "We are devastated. It's the second time in less than a year. It's awful for us.
"We are on the road now to raising money to rebuild our main building from the other fire then this has come and really set us back."
He said they were now thinking of installing CCTV on the site but that this money would come out of their budget for the rebuild and buying new equipment for the scouts.
Mr Smith added: "Over the years there's a lot of work gone into this place. Fortunately there's no loss of life or anybody injured equipment can be replaced of course but at a cost."