Record number of whooper swans at Lancashire reserve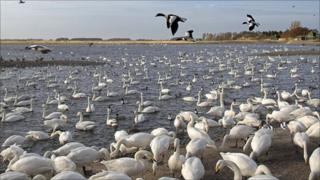 A nature reserve in Lancashire has seen record numbers of whooper swans visit over the winter.
The Wildfowl and Wetlands Trust's Martin Mere reserve in Burscough saw 2,400 swans spend time there.
In the 1970s, the maximum count for the birds was less than 10, but the provision of a secure roost and a good food supply has seen numbers increase.
The swans have now started to migrate back to Iceland, as the first of the summer wading birds start to arrive.
The first of the summer migrants have already arrived, including the sand martin, avocet, northern wheatear, chiffchaff, white wagtail and little ringed plover.
"In the past few years, Martin Mere has been the most successful breeding site for avocet in the north west of England and there are already 67 on the reserve," said reserve manager, Andy Wooldridge.
"We are very hopeful for good numbers of chicks this year."
In the next week, staff at the centre are also hoping to see the first of the goslings born as duckling season begins.
"This is a lovely time of year to see such physical changes in the landscape," added Mr Wooldridge.