Lancashire woman calls for cancer screening change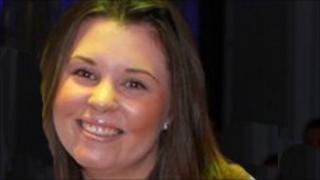 A woman from Lancashire, diagnosed with cervical cancer at the age of 24, is calling on the government to lower the screening age for the disease.
Rosie Hollis, from Hoddlesden, found out she had cancer a year before she was due to take part in the national screening programme.
"I had learned about the symptoms of cervical cancer and was literally able to tick them off," she said.
"If I had waited I would have been dealing with a different cancer stage."
Miss Hollis feels young women should ask for a smear test if they have concerns, and is campaigning to have the screening age lowered from 25 to 20.
In November 2009, Ms Hollis visited her GP to insist on having a smear test.
"I had un-prompt bleeding, bleeding after sex, awful cramps and back aches," she said. "My periods were so heavy and out of routine it was hard to realise where one had ended and another began.
"It was not my usual GP that I saw, but the lady was sweet and allowed my partner Andy to stay with me and hold my hand."
'I felt sick'
In December 2010, Miss Hollis received a letter saying she had severe cell changes in her cervix.
"At that point I wasn't too worried as I was beginning to realise how common abnormal smear tests where through talking to other girls.
"I was then sent to the colposcopy clinic at the Royal Blackburn Hospital, where I had biopsies taken.
"I was called back six days later to discuss my results.
"Andy and I were taken into a tiny little room with a sofa and two chairs and it was clear the news was not great.
"I was told I had a cancer in my cervix. I felt sick. I thought I was going to die.
"I went into Little Miss Organised mode and planned my funeral. Planned the music I wanted and what I wished people to wear. I also sorted through my collection of jewellery to decide who I wanted to have what.
"That was my way of coping I guess."
Within two weeks, she was transferred to the care of experts at the Royal Preston Hospital where she underwent a procedure where part of the tumour was removed before going on to have a trachelectomy, where the cervix is removed surgically, but the womb and ovaries are left.
In March 2010, Miss Hollis got the all-clear from cancer and is hopeful she can still start a family because of her early treatment.
She is now urging young women to attend regular smear tests.
"At the end of the day, it is about the choice. Some women over 25 choose not to attend screening yet younger girls are developing cancer.
"I'm one of the lucky ones. Although I don't feel lucky. My life has been turned upside down."
A Department of Health spokesman said: "In May 2009 a review into the cervical screening age by the country's leading experts concluded unanimously that the age should not be lowered. The independent Advisory Committee on Cervical Screening (ACCS) found that screening women under the age of 25 did more harm than good but that more work needs to be done to ensure patients with symptoms are treated correctly.
"Therefore new guidance with input from a number of GPs was published in March 2010, and has been endorsed by the Royal College of General Practitioners, the Royal College of Obstetrics and Gynaecology and the Royal College of Physicians.
"Cervical screening currently starts at age 25 years in England - this is the age recommended by leading experts, including the ACCS and the World Health Organisation. We will be keeping this under constant review with the advice of the ACCS and any new emerging research or evidence."