Wife killer Robert Lund to appeal over court error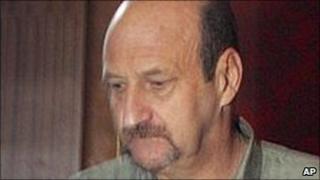 A British man convicted of killing his wife at their French home and dumping her body in a lake is bidding to be freed over an alleged legal blunder.
Robert Lund, from Blackburn, was jailed for 12 years in 2007 after being found guilty of manslaughter.
Evelyn Lund's decomposed body was found two years after she went missing from their farmhouse near Albi in 1999.
On Thursday, a court in Toulouse will decide if he should be freed on parole pending a decision on another appeal.
The 59-year-old is basing his bid for an appeal on the fact he was not given a last chance to address the court until two hours after the jury began deliberating.
Once the presiding judge realised the error in the 2009 hearing, members of the jury were returned to the courtroom. They took five hours to find him guilty.
Accident claim
Mrs Lund went missing from their home in the remote village of Rayssac, south west France, in December 1999.
A massive search was launched but there was no sign of her until late 2001, when her body was found in her car in Lake Bancalie, which is 15 miles away.
Lund has always maintained his innocence, saying his wife had been drunk and drove into the lake by accident during a storm.
A judge at the French Cour de Cassation, in Toulouse, will decide if he should be freed before another hearing to decide if he should face a re-trial.
One member of the city's legal community, who did not want to be named, said: "It was a basic error in the courtroom that could now lead to this man now walking free after serving just 18 months of a 12-year sentence."
In a statement, Evelyn Lund's family said they were "fully prepared" for another trial, should one take place.
"Regardless of the outcome tomorrow it will not change the fact that he has been convicted twice in a French Court by a jury for causing Evelyns death," they said.
"We have fought for the last 11 years and will continue to do so in order to get justice for the loss of Evelyn, who is sadly missed by all of her family."