Plan to turn former Preston Post Office into media hub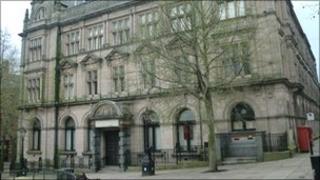 Plans have been revealed to turn the former Post Office in Preston into a learning centre for young adults.
The Grade II-listed building on Market Street would offer a variety of media-related training opportunities.
It is hoped the project will help young people gain employment, as well as creating new permanent jobs on the site.
Architect Mick Goode, who created the plans, said it would also "breathe new life into a historic Preston building".
The organisation behind the conversion is Preston's Community Service Volunteers (CSV) which already operates a media centre for 14 to 19-year-olds in the city.
Preston CSV said the learning programme at the new site would include TV and radio production, music recording, photography and design.
Regional development manager Steve Egan said: "We have already made exceptional progress in changing and challenging behaviour and this project will continue to raise the hopes and expectations of young people."
If the regeneration does go ahead, there could be new permanent positions for administration staff, tutors, and youth workers.
The former Post Office building was acquired by Preston City Council in 2005.
Early plans to turn it into a library and knowledge centre were stalled due to funding issues and plans for a regional design and innovation centre were also scrapped.
The project is now looking to secure funding from the Heritage Lottery Fund, the European Regional Development Fund and other sources.