Mersey rescue after Troon vessel runs aground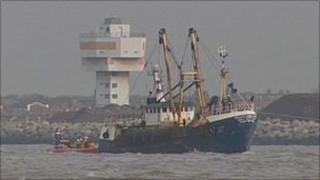 A fishing vessel has been rescued after running aground on the banks of the River Mersey.
The 25-metre (82ft) long Georgelou N, registered in Troon in South Ayrshire, Scotland, ran aground with seven crew on board two miles off Formby Point.
Liverpool Coastguard was called out to help the vessel, which reported gearbox failure, at about 0300 BST.
But the falling tide left the vessel grounded. She was towed off the sandbank at about 0900 BST.
The boat was leaving Liverpool when she got into difficulty and appealed for for help.
RNLI lifeboats from Hoylake and New Brighton were launched, as well as the daughter craft of the Vos Pathfinder.
Ian Jackson, deputising watch manager at Liverpool Maritime Rescue Co-ordination Centre, said: "We are hoping that the vessel will be towed off the sandbank later this morning.
"The skipper of the fishing vessel has shown great professionalism which has contributed so far to a smooth rescue operation."
The vessel was being returned to Liverpool Dock where she will be examined by a surveyor, a coastguard spokeswoman said.