Blackpool mother criticises killer's appeal hearing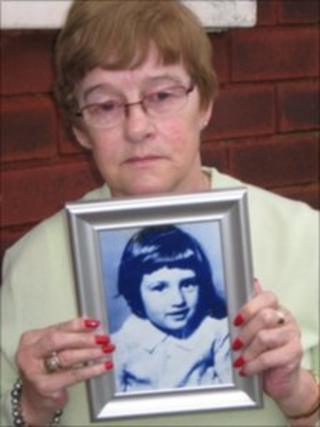 A woman whose brother raped and murdered her seven-year-old daughter 33 years ago has said she believes he should never be released from jail.
Peter Chester, 56, is serving life for raping and strangling Donna Marie Gillbanks in Blackpool in 1977.
A judge at the High Court ruled on Monday that he had the right for his appeal to be heard by the Parole Board.
June Gillbanks said she believed her brother was still a risk, despite him claiming he had changed.
Chester has had seven applications for parole or to be sent to a less secure jail rejected.
The latest review took place in May last year with the Parole Board finding he was unsuitable for release or for a recommendation that he should be transferred to open conditions.
'Entitled to everything'
Chester applied for an oral hearing with the Parole Board to assess the risk he posed, but was again turned down.
Judge John Behrens upheld his challenge at the High Court.
During the hearing, Chester said he had changed, having served more than 30 years in prison.
But Ms Gillbanks, of Blackpool, said: "In 2006, the Parole Board hearing said he was still considered a very high risk to children, the public and known adults."
She said she felt "totally devastated" when she was told by her local newspaper he had been given the right to the hearing.
"I would like to be at the parole hearing so I can speak for my daughter Donna Marie," she said.
"He is entitled to everything and I am entitled to nothing and that is what I don't like."
Ms Gillbanks said she was still haunted by her daughter's death, and still had flashbacks of finding her body in her bedroom.
"It has been nothing like a nice life at all. Obviously I think about her every day," she said.