University of Central Lancashire to charge £9,000 fees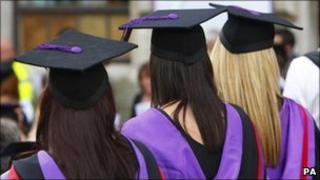 The University of Central Lancashire (Uclan) is to charge students £9,000 fees from next year.
The Preston university said it could only continue to provide a "superlative education" if it replaced lost state funding through fees.
Uclan vice-chancellor Malcolm McVicar said it must invest to maintain and improve standards for students.
It is due to announce ways for students from all backgrounds to be able to afford the fees.
Mr McVicar said: "We are proud of our world-class facilities, extensive international partnerships and culture of combining academic excellence with innovative approaches and real-world practicality.
"We must continue to invest in order to maintain and improve these opportunities for the students of today and tomorrow.
"Fee levels of £9,000 will allow us to do that and in the coming months the university will announce a comprehensive student package to ensure that all students, regardless of their background, can continue to benefit from the life-changing opportunities a Uclan degree offers."
Uclan's announcement comes after Derby University said it would buck the trend to charge the maximum by setting its fees at less than £7,500 for most courses.
It said it would charge on a "sliding scale" to reflect the cost of providing different courses.
The universities of Oxford, Imperial College, Durham, Exeter, Essex, Surrey, Manchester, Warwick, Aston and UCL have now said they want to charge the maximum yearly tuition fee.
Ministers have warned universities that if the majority set fees at or close to the maximum £9,000 then more funding for teaching could be lost.