Uclan student union calls for rethink on tuition fees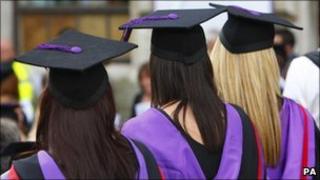 The president of the University of Central Lancashire's student union has called on the government to reconsider its policy on university funding.
The Preston university has announced it will charge £9,000 a year - the maximum allowed by the government - from 2012.
The government has said it wants to replace direct government funding of courses with increased fees.
Union president Michael Palmer said he believed the plans would not be affordable.
"The government is trying to implement a scheme which it believes is cheaper on the Treasury and on the tax payer.
"It is simply not. It therefore cannot afford to run it. It is going to be forced to re-think its policy.
"As the Student Union here has always said, we are trying to say to the government, 're-think your strategy'."
Uclan vice chancellor Malcolm McVicar said it could only continue to provide a "superlative education" if it replaced lost state funding through fees.
The university is due to announce ways for students from all backgrounds to be able to afford the fees.
'Not for certain'
In total, 30 universities have declared their fee levels for next year, with the majority planning to charge £9,000.
They include the universities of Oxford, Imperial College, Durham, Exeter, Essex, Leicester, Surrey, Manchester, Warwick, Aston and UCL.
A spokeswoman for the Department for Business, Innovation and Skills said: "No university can know for certain yet what it will charge from autumn 2012.
"Each university will need to show how they meet tough new conditions in an approved access agreement from the Director for Fair Access, if it wants to charge more than £6,000.
"Some universities have said they would like to charge £9,000 for some of their students but they have also proposed extensive fee waivers, while others have said they will charge significantly lower amounts.
"This means many students will pay less than the published price and will subsequently borrow less."