Old Pendle dialect phrases to be put on cube artworks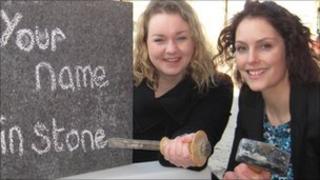 Twelve Lancashire dialect phrases are to feature on a series of stone cube artworks as part of a town centre redevelopment scheme.
Pendle council asked a local history society and dialect expert to select the sayings that will be carved into the stones to be placed in Nelson.
They are linked to the region's 19th Century cotton industry. Lyrics from a cotton mill song will also be used.
The work is part of a £2.1m scheme to revitalise Pendle high street.
The council is also looking for people to submit more dialect sayings that can be inscribed on the stoneworks.
Town centre officer Hanna Latty said the plans would give the "central amphitheatre-style space a local theme" and needed to be one people felt proud of.
"The idea of introducing local dialect phrases and lyrics seemed like the perfect way to reflect the heritage of the area," she said.
This will be an area free from vehicles, where people can sit and enjoy the town centre, the council said.
"Hopefully the dialect will spark up some interesting conversations, not only with our older generations but the younger ones too," Ms Latty said.
The cubes will be installed when the high street revamp work is completed.
In total there will be 32 cubes, some of which will be sponsored by businesses and residents.
Dee McInnes and her family are dedicating one to their grandfather, Rodney Blezard, a war veteran who died in May 2010.
They have chosen the phrase "wi ma nivver see termorn, soa wid better mek t'best o' terday", which means "live your life now rather than worrying about tomorrow". They said they felt it best reflected his outlook on life.
Ms McInnes said: "My granddad was a real local character. He liked nothing better than to spend time sitting in Nelson town centre talking to friends and strangers alike, even into his 90s."
As well as the cubes there will be a 12m (39ft) high metal weaving shuttle sculpture that will be lit-up at night.