River Ribble waste used in Chelsea Flower Show exhibit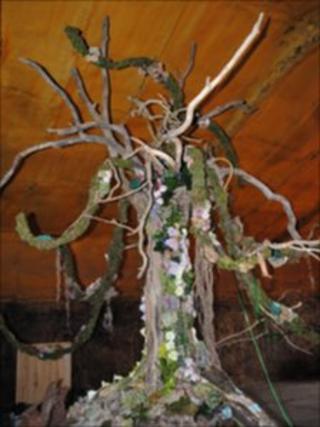 A group of amateur flower arrangers who have been chosen to exhibit at one of the world's best known flower shows hope their work will inspire others.
Ten people from north-west England are working on a display for May's RHS Chelsea Flower Show.
They were selected to represent the National Association of Flower Arrangement Societies (Nafas).
The team have scoured the banks of the River Ribble near Preston, Lancashire, for objects in their showpiece.
Recycling is a major theme of their "fantasy tree" creation, which stands 20ft (6m) high.
As well as flowers and foliage, their "Wood Yew Waste" arrangement includes rusted milk churns, old cart wheels and pitted oil drums as well as huge chunks of driftwood that were recovered from the banks of the Ribble estuary.
One of the pieces of driftwood they found took five people to drag from the riverbank.
'Pops of colour'
Team leader Ann Coulton, from Longton in Lancashire, said their work was all about "showing nature off at its best" and that to be at Chelsea was a great honour.
"It's the best flower show in the world and we feel it's wonderful to be chosen to represent our association," she said.
"It's been 19 years since the North West was last picked to showcase our work."
She said the riverside was "a fantastic place" to find washed up pieces that could be used in flower displays.
"Other flower arrangers are envious of what we have, particularly when they have to pay for some of the things we find washed up," she added.
"This will be quite a unique display, we wanted to create an impact, we don't think they'll miss us.
"We've created something very different, something more of a sculptural design rather just traditional floral arrangements on a stand."
Last year the Nafas representative team won a silver-gilt at the world-renowned horticultural event.
For the past 18 months the North West team have been working on their design and have met regularly at a barn in Lancashire to construct their Chelsea entry.
'Aesthetic eye'
"It's about waste but the items we have collected also reflect the natural and industrial heritage of the North West," Ms Coulton added.
"We also hope to include locally grown fruit and vegetables to celebrate the region's reputation for market gardening."
As well as riverbank detritus, waste from home rubbish bins has also been used including the small, brightly coloured plastic containers used in automatic coffee makers to add "pops of colour".
Over a thousand tea bags have been used by the flower arrangers to create floral embellishments to look like textured foliage and fungi.
But real flowers have not been forgotten. When the team eventually set up at Chelsea they will add hundreds of hydrangeas, roses, chrysanthemums and other native flowers.
Ms Coulton said she was confident visitors would notice her team's creation.
"We wanted to create impact, a whole fantasy, with dry ice, water dripping from mossy branches into pools, you will definitely notice our creation when you enter the Great Pavilion," she said.
"I suppose this whole thing is about seeing things differently. What other people are throwing away as rubbish we see with an aesthetic eye."
When the show opens the team will also be wearing waistcoats fashioned from black plastic bin bags which have been cut into ribbons, knitted and then ironed into a material that looks like fine black lace.
The Chelsea show's Great Pavilion hosts displays from the world's leading exhibitors.
Visitors can see the North West flower arrangers' work from 24 to 28 May.