Blackburn College sets degree fee at £7,000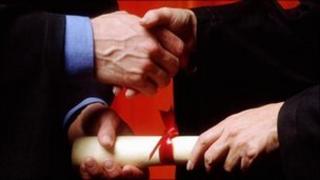 Blackburn College has announced it will set all its university-validated degree courses at a maximum of £7,000 a year.
Principal Ian Clinton said it was "offering students realistic, affordable high quality degrees".
Many universities plan to charge £9,000 for all of their courses, but only a handful of colleges plan to charge £8,000 or more.
Students will pay the fees once they graduate and are earning at least £21,000.
There will be support for those from low-income homes.
'Best teaching'
Mr Clinton said: "I honestly worry about how many students are going to be saddled with debts they are going to struggle to repay, once they have left university.
"We've taken appropriate steps to put our students first and invest in their futures by offering affordable degrees."
Many of the college's degrees are awarded in conjunction with Lancaster University.
Sir Bill Taylor, Chair of the Corporation Board at Blackburn College, said: "We had to balance being as fair as possible to our undergraduates from 2012 onwards and making sure they receive the best possible teaching under this new regime."
He added: "To sustain this quality we needed to set our fees as we have at £7,000 per year. We anticipate that applications will reflect that careful balancing act of cost and quality."
More than 30 universities have now declared the fees they plan to charge next year.