Blackburn Lib Dem Abdul Rehman quits over council cuts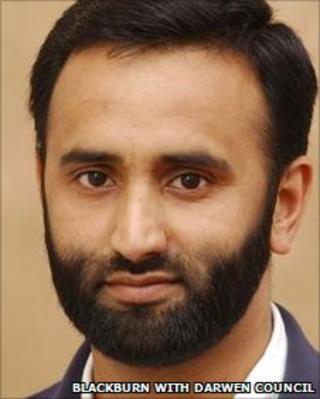 A Liberal Democrat councillor in Blackburn has defected to Labour in protest at what he called "damaging" government cuts.
Abdul Rehman, whose Corporation Park seat is not up for re-election in May, said he was "embarrassed by the party's long list of broken promises".
Kate Hollern, leader of the council's ruling Labour group, described Mr Rehman's decision as "brave".
The Liberal Democrats said he left "before he was kicked out".
Mr Rehman has represented the Corporation Park ward since 2004.
He tendered his resignation from the party and informed the council's chief executive of his decision on Friday night.
In a statement explaining his reasons, Mr Rehman said he no longer wanted "to be associated with a party that is happy to support cuts that are doing significant damage to the community in Corporation Park ward and the wider community of Blackburn".
'Embarrassed' by party
Mr Rehman said the borough was the 17th most deprived in the country and had suffered the fifth highest level of government cuts.
Blackburn with Darwen Council has previously said its government grant was cut by £33m in the latest settlement.
"That is simply not fair and is a betrayal of everything that the Liberal Democrats have previously stood for," Mr Rehman added.
"Over the last few months it has been difficult not to feel embarrassed by the long list of Liberal Democrat broken promises but the severity and unfairness of the government cuts programme is, for me, the final straw."
The councillor's application to join the Labour Party has to be ratified locally and by the regional party.
The leader of the council's Labour group, Ms Hollern, told the BBC she was "not surprised" by his decision.
"I think if I was a Liberal Democrat right now I'd be embarrassed to knock on doors and ask for support.
"I think it would be difficult to explain firstly broken promises but also promises made for the future.
"He's been very brave. He's not up for election this year, he could have just sat on his hands and considered it next year."
'Not be missed'
Liberal Democrat group Leader, Councillor David Foster said, "I think this is a case of a councillor resigning before he was kicked out of the group.
"Councillor Rehman has not produced any leaflets for his ward and has a poor attendance record at local community meetings.
"He was very likely to have been kicked out of the group after the local elections and would not have been reselected to fight for the party in 2012.
"He has contributed very little to the group over the last 12 months and will not be missed."
Michael Lee, leader of the council's Conservative group, said he did not believe Mr Rehman's reasoning for the decision.
"There were always going to be difficult decisions required of anybody who took power," said Mr Lee.
"As far as I'm aware he's not mentioned those [concerns] previously.
"I wonder whether his concern is more along the lines of that he's up for election next year."