Life as a modern Christian debated at Easter lectures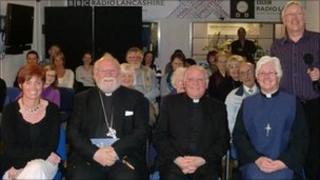 The difficulty of living life as a Christian in Lancashire was one of the subjects debated at BBC Radio Lancashire's Easter Lectures.
The annual lectures take place before an audience in the BBC Radio Lancashire Radio Theatre in Blackburn.
This year, in celebration of The Year of the Bible, four Christians were asked to select a text from the bible.
They were then asked to explain why they think it is still relevant to life in the county today.
Catherine Moxon, a signing interpreter who is involved in a project to help the deaf to better understand the bible, choose the parable of the Good Samaritan and equated it to walking through Preston: "People say those who are begging on the streets have a posh car parked round the corner. We have kind of made it acceptable to ignore them."
She asked: "What are we doing to love our neighbour? My neighbour is anybody and it could be someone who is a different religion, someone who is of a different cultural or social background to me. It's as important, if not more so, to love them. And sometimes that's not easy."
The Bishop of Burnley also touched on the difficulty of being a Christian. The Right Reverend John Goddard, quoting from the Letter from the Philippians, began: "Let the same mind be in you as in the Christ Jesus."
"God takes risks," the Bishop said, and his message to Lancashire is to do the same. "Take a risk. Learn to trust God and perhaps you will learn something about yourself."
Controversial issues
Many in the packed audience said they struggled to make it known they are Christians.
One man said: "It creates an immediate image about what people think you are. There's not a lot of patience in hearing what you think."
With an eye to those who profess to be Christian but never go to church, another audience member said: "There are layers of Christianity and the church should explore that without buying in to what the media think a Christian is."
Father Tom Hoole from St. Mary's in Fulwood used his biblical reading to ask how well Lancashire knows Jesus.
Not well enough seemed to the general answer, with one woman saying: "We all have our faults and none of us are perfect. We have to correct our lives as best we can to live like Jesus did."
Ama Sue Williams from the Church of England Blackburn Diocese talked about The Book of Psalms and said it gives an insight into how Christians believe that Jesus is always with them even when times are difficult.
"The psalms say that life can be great but there are other days when life is not so good," she said. "Days when we are angry and the psalms allow us to express that anger. Through them we can speak honestly to God."
In a wide ranging hour the debate touched on many of today's controversial issues. How is God helping those who are struggling in these economic times? We were told that he is, but not always in an obvious way.
Is he proud of Lancashire today? The answer appeared to be yes but there are some night-time, booze-fuelled antics in our towns and cities which the Bishop of Burnley felt God would be less than pleased with.
It's been 400 years since the publication of the King James Bible, and it seemed to be the opinion of all in the BBC Radio Lancashire Radio Theatre that, whether you believe its contents or not, the Good Book still has a lot to say about modern day Lancashire.
Joe Wilson presents the faith programme on BBC Radio Lancashire from 6am each Sunday.