Lancashire holidaymaker 'lucky' to avoid Marrakesh bomb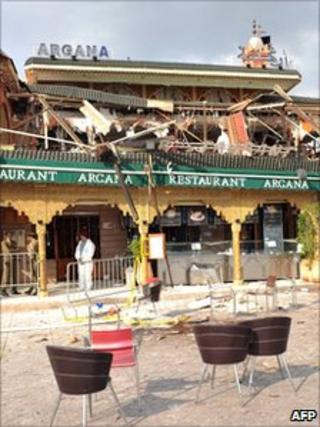 A holidaymaker from Lancashire believes she is lucky to be alive after a bomb attack on a cafe in Marrakesh, Morocco, that left 16 people dead.
Genevieve Haines, from Garstang, had visited the Argana cafe in Djemaa el-Fna square, a major tourist spot, the night before the explosion.
She told the BBC she "felt very lucky" to avoid the blast, which killed 11 foreigners and injured 20 other people.
One Marrakesh official said a suicide bomber could be behind the attack.
Ms Haines said she had been returning to the city after visiting the Ouzuode Waterfalls when she heard about the explosion.
"It was only because I got a text off my friend asking if I was alright that I knew what had happened," she said.
Ms Haines said forensic examinations and clean-up operations were continuing at the square on Friday.
"After we'd seen what had happened we left the square because of the advice of the embassy," she said.
"The cafe where it happened was three storeys high and it looked like the bomb had gone off in the middle terrace, which is where all the tourists like to sit and overlook the square.
"[I felt] a bit worried because we were actually sat facing it last night, so obviously it could have been us if we hadn't have left and gone somewhere else.
"I obviously feel very lucky that we weren't there and directly involved, and sad for the people that have been injured and the people who have lost their lives in the incident."
Witnesses described hearing a huge explosion just before noon on Thursday that sent debris flying into the square.
Much of the facade from the cafe was blown away.
The UK Foreign Office is investigating reports one of the victims was British.
The last serious attack in Morocco was in Casablanca in 2003, when 45 people - including suicide bombers - were killed.