Manhunt for escaped prisoner in Lancashire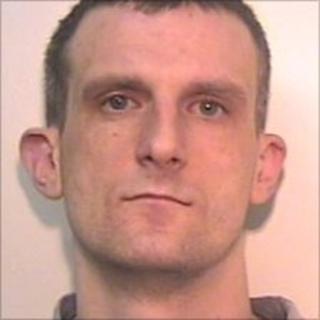 A manhunt is under way for a prisoner serving a life sentence who escaped while being transported in Lancashire.
John Paul Williams was one of three men who escaped through the skylights of the HM Prison Service van on the A59 in Burscough earlier.
Two of the men were detained by staff but police are still hunting for Williams, who is from Manchester.
An "urgent investigation" is being carried out into the circumstances of the escape, the prison service said.
Williams, 35, from Longsight, was wearing standard prison clothes and remains at large. He is a convicted armed robber.
Four prisoners were being transported from HMP Garth to different prisons on Merseyside when three of them escaped from individual cells.
'Exceedingly rare'
"Police are urging members of the public to report any sightings of him by calling 999 and they should not approach him," said a Lancashire Police spokesman.
Security staff raised the alarm at about 1530 BST.
A Prison Service spokesperson said: "We take the safety of the public extremely seriously.
"Two prisoners were prevented from escaping but one prisoner remains at large and is being urgently sought. This is now a police matter.
"It is exceedingly rare for a prisoner to escape during transfers. The Prison Service is conducting an urgent investigation into the events around this incident."