Domesday Reloaded: 25 years in the life of a farmhouse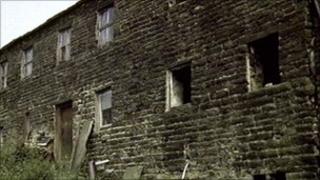 In 1986 to celebrate the 900th anniversary of the Domesday book, the BBC asked people to contribute to a BBC Domesday project.
The country was divided into blocks and people wrote about their daily lives and photographed their local area.
One of the entries featured Albert Hope's farm in the village of Belthorn.
The original entry reads: "Bank Fold Farm has no mains water, sewerage, electricity or gas. The owner, over 80 yrs old, uses paraffin lamps."
Twenty five years on, how has it changed?
The original farmhouse, renamed Higher Bank Fold Farm, now belongs to Yvonne and Roger Brown, who have lived there since 2000 after re-locating from the South East.
They bought it off Roy Fielding, who in turn had bought it off Albert, and who did the modernisation.
Colourful local character
"The attached barn in the original photograph was being separately converted at the time into two further properties," explained Yvonne.
"In addition, in 2008 we also bought one of the two properties created when the attached barn was converted, which we now run as a holiday cottage."
Albert Hope was a colourful local character, as Lee Fallon, who still lives in the village, recalled: "I remember Albert well from when I was a child. I had a friend down at Bank Fold, a tiny hamlet perched on the hillside.
"The farm was in a right state, the barn a tumbling shell and the front and rear of the farm itself full of rusting old scooters and a Bren Gun Carrier.
"We often used to see and chat to Albert, pottering about in the only clothes he ever wore - a threadbare grey woollen greatcoat tied at the waist with string, gumboots, very thick glasses and a grubby flat cap.
"One time he was seen wandering up the road in one welly and one shoe because the dog had hidden one of his boots."
Albert lived in the barn with his sister Marion before it was eventually sold and renovated. They then moved into a Victorian terrace called James Street until Albert passed away. Marion stayed on in the house with care and died a couple of years later.
Were you involved in the original Domesdsay Project? Find your original entry and get in touch at bbc.co.uk/domesday