Head at Darwen Vale High School suspended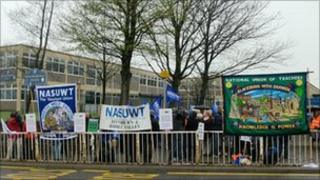 The head teacher of a Lancashire secondary school has been suspended after teachers took strike action over the behaviour of pupils.
Hilary Torpey, head of Darwen Vale High, has been suspended pending an investigation, Blackburn with Darwen Council has confirmed.
Members of teaching unions had claimed management were not supporting staff in dealing with pupils' bad behaviour.
A spokesman said the suspension was a "neutral act", and did not imply guilt.
Don Heatlie Jackson, the school's chair of governors at the school, said: "A number of issues have been brought to my attention as the chairman of the school's governing body.
"As these require a full and proper investigation, a without prejudice decision has been taken to suspend the head teacher of Darwen Vale.
"It would therefore be inappropriate to discuss this matter further."
Unions have claimed pupils have physically and verbally abused staff, filmed lessons on mobile phones and threatened to post them online.
'Correct decision'
There have also been allegations of cyber bullying and pornography use.
Simon Jones, of the NUT, said: "The NUT welcomes the decision to suspend the head teacher from Darwen Vale and thanks the governors and local authority for taking this correct but difficult decision.
"Union members will cooperate fully with the thorough investigation that must now be undertaken into the allegations that have been made."
He said the unions had been involved in "intense negotiations" with the local authority and governors since the strike on 7 April and they remained "committed to securing a constructive outcome for our members and the school".
Temporary buildings
Mr Jackson said the school was in the process of appointing a new interim head and associate head for the 1,100 pupil school during Ms Torpey's absence.
He added: "We would like to reassure parents that the education of our young people remains our priority.
"The new interim head teacher will work with governors, staff, unions, council officers and parents to maintain support for the school and ensure there is minimal impact on our young people's education."
Darwen Vale High School is currently being rebuilt and is due to open in September 2012.
Pupils are being taught temporarily at former Holden Fold school buildings.