Silentnight saved by HIG Europe buy-out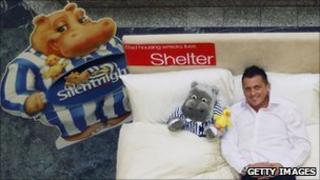 Britain's biggest bed-maker Silentnight has been rescued from collapse after being bought by a private equity investment firm.
The manufacturer, based in Barnoldswick, Lancashire, went into administration after it emerged it had a £100m deficit in its pension fund.
HIG Europe, the European arm of global private equity investment firm HIG Capital, has agreed to buy the group.
The purchase has saved 1,250 posts in the UK and Ireland.
Under the terms of the sale, the Pension Protection Fund (PPF), which is Silentnight's largest creditor, will have to take over the pension fund and its shortfall.
The final salary pension fund has about 1,500 members, but only 100 still work for the group.
Members who have not yet retired are expected to have their annual benefits capped at about £30,000.
'Proud history'
Creditors had been due to vote on a proposed Company Voluntary Agreement (CVA) to save the firm this week.
Under the CVA, creditors would have to have accepted reduced repayments to enable the company to continue manufacturing.
But the PPF rejected the plan resulting in Silentnight going into administration.
Neal Mernock, chief executive of Silentnight, said: "Whilst we are disappointed that the CVA was not successful, this deal with HIG Europe safeguards the jobs of our 1,250 employees and enables Silentnight to continue its proud history of manufacturing and distributing beds across the UK and Ireland.
"Silentnight is now in a much stronger financial position, with healthy short-term cash flow and the longer-term ability to invest substantially in marketing and product development."
Mark Kelly, partner of HIG European Capital Partners, said: "Silentnight is a strong, profitable business with a 21% market share and a position as the largest manufacturer in its sector in the UK and Ireland.
"We are delighted to have acquired a business of this standing and heritage, and look forward to working with the current management team to further strengthen and develop its position over the coming years."
Silentnight was founded in 1946 and supplies around half a million beds a year to retailers.
The group employs about 650 staff at its main site in Barnoldswick, and a further 600 at sites in Cumbria, West Yorkshire and Ireland.
Most recent results show the company made sales of £107.1m in the year to January 30 2010, down from £110.8 million the year before.