BBC's Domesday project shows 1980s Lancashire life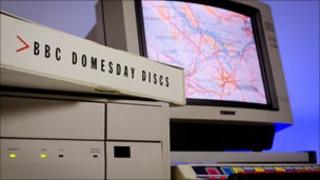 Twenty five years ago the BBC ran a project called Domesday, asking people to submit pictures and written descriptions of their communities to create a snapshot of life in the 1980s.
It was launched to coincide with the 900th anniversary of the original Domesday Book, which was commissioned by William the Conqueror.
Taking the idea of creating a 20th century community archive, the BBC divided the UK into 3km by 4km grids, or "D blocks", using an Ordnance Survey map.
In Lancashire, people submitted information for their block on a huge range of subjects ranging from descriptions of local landmarks, issues affecting their lives to possibly some of the more mundane aspects of daily life, like a walk to school.
Vast archive
So how has Lancashire life changed? Or indeed are there still some aspects that remain the same?
The BBC has relaunched the Domesday vast archive of information and wants you to explore it and help update it.
Domesday Reloaded is the 2011 sequel to the original project and, for the first time, the information is being made available online.
A million volunteers took part in the 1980s, including schools and local groups.
Details for about 9,000 of the blocks were completed and all the data - personal memories, photos, maps, video and essays - were etched into two digital laser discs.
Unusual buildings
A quarter of a century ago, contributors from Lancashire revealed:
The handbell ringers of St. Stephen-on-the-Cliffs church in Blackpool would go around local hotels and pubs to raise money to help build the church.
The Castle Casino on Blackpool's North Shore Promenade was built in the 1920s, in the architectural style of a French chateau, by a wealthy eccentric for his girlfriend - however, she never lived there. In 1965 wrestler Jack Pye turned it into a nightclub.
Domesday 1986 was a groundbreaking project and it is quite remarkable the amount of data that was collected at the time, all without the modern digital methods of sharing details via email and the internet.
However, with fast-changing technology and rising costs it fell into obsolescence, and very few people ever saw the finished results or even knew if their entry was included.
It is thought that the original 1980s Domesday discs used to store the information on were made by a Lancashire company, if you have any details we would like to hear from you.
The BBC wants the public to explore the photos and articles from 1986 on the Domesday Reloaded website to find out how life in Lancashire has changed today and, if possible, update what was submitted in 1986.
The BBC is also holding a Domesday Reloaded event at Preston's St George's shopping centre on 18 May, where you can find out more about the project and share your images and memories.