Morecambe's 'exemplary' fans praised by police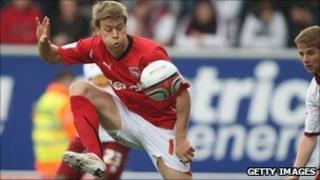 Fans of a Lancashire football team have been praised for their "exemplary behaviour" in the past football season.
Pc Will Nelson has followed fans of League Two Morecambe at home and away all season and said the fans have been "excellent ambassadors".
The football intelligence officer has monitored Morecambe fans for the past two years.
Morecambe's chief executive Rod Taylor said the club's fans created a "great family atmosphere".
Pc Nelson said: "Football fans are often in the press for the wrong reasons. However, I have nothing but praise for the Shrimps' fans.
"I've followed them all over the country and have consistently received positive feedback on them from other forces and from stadium staff.
"Despite giving me some stick for supporting Spurs, the Morecambe fans have always been courteous towards me and I'd go as far as saying that Morecambe are now my second favourite team."