Topple-testers prepare for work on 1,100 headstones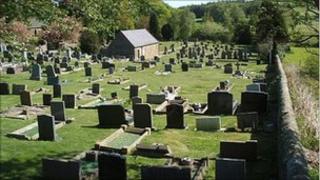 Over the coming months safety tests are taking place on more than 1,100 headstones at a Lancashire cemetery.
Pendle Council has already checked cemeteries in Salterforth, Nelson, Barrowford and Earby and now Ghyll cemetery near Barnoldswick is next.
The headstones will first be tested by hand but if there are still concerns, a piece of equipment will be used to do a topple test.
Robert Careswell is the authority's memorial safety inspector.
"A topple tester applies pressure to a memorial of about 35kg, it's like the pressure someone would use while trying to help themselves up from the graveside by holding onto the top to get to a standing position."
Anyone concerned about what the machinery can do will be able to see a demonstration at the cemetery on Saturday at 0930 BST.
"These demonstrations will give relatives and anyone else the chance to see just what we'll be doing around their loved ones' graves," he said.
Family history
He estimates that between 15 and 20% of the headstones will have problems.
"In times past the headstones were just cemented together but over time that can fail, the headstone falls and you just can't recement them.
"All new memorials now have to have ground anchors to stop them falling over. Any that we are concerned about we will try and contact the registered grave owner," he added.
But one of the problems facing councils is that families often fail to inform them about who is the grave's legal owner.
"We will do what we can to make a memorial temporarily safe. Then we will write to the grave owner, usually the relatives, to let them know of their responsibility to put right any problems that we find when we do the test," said Mr Careswell.
Every memorial is photographed, which will not only provide a record of how it looks but also help with enquiries from those researching family histories.