Sex case drama teacher sentenced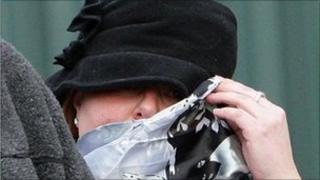 A female drama teacher who groomed a 13-year-old girl for sex at a Lancashire school, has been jailed for three years.
Caroline French, 38, of St Annes near Blackpool, was sentenced at Preston Crown Court where the judge described her as "manipulative" and "vindictive".
She was convicted of three indecent assaults and one count of indecency with a child, all between January and April 2004, when her victim was 15.
French had denied the charges.
Changed surname
The court heard that French, of Ashtree Close, exchanged rings with the girl and even asked her to refer to her at school as "Danny", a pretend boyfriend, to mask their affair.
The relationship ended and months later French became intimate with another girl whom she taught at a different school in the resort, the jury was told.
The second girl moved into French's former home in September 2004 when she was 16 and a sixth-form student.
They then allegedly began a sexual relationship which lasted three years during which the teenager changed her surname by deed poll to French.
French told the jury that they were not lovers and that the girl was her lodger.
It was as a result of the police investigation into that relationship that led to the uncovering of the earlier abuse.
'No remorse'
Judge Stuart Baker told the defendant: "She was a vulnerable girl struggling to understand her own sexuality and having a number of problems to cope with.
"She looked to you for support and, while it is right to recognise that you did put an end to the bullying, you went on to take advantage of the closeness of the relationship and you encouraged her into an intimate relationship which was completely inappropriate.
"It involved a gross breach of trust."
He added: "In my view, you have shown yourself to be not only a good teacher and well-respected on one hand, but on the other hand a manipulative, selfish and, when it suits you, a vindictive woman.
"You chose to plead not guilty and that is your right but, by accusing almost all the Crown's witnesses of lying, you have shown you have no remorse for what you have done.
"Your career now lies in ruin and your life is ruined as well. You will have a long and difficult struggle to rehabilitate yourself in paid employment."