Lancashire crash man thanks police helicopter rescuers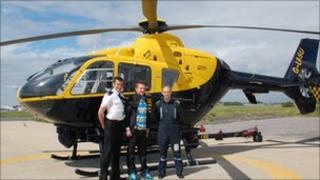 A motorcyclist who was rescued by a Lancashire Police helicopter when he crashed has visited officers who helped save his life.
Kurt Foster, 19, from Burnley, hit a tree in October 2010 and was left with serious head trauma and liver injuries.
The air ambulance was unavailable so a police helicopter took Mr Foster to Royal Blackburn hospital where he was treated for five months.
"I am indebted to them as I feel they have saved my life," Mr Foster said.
Following the crash, Mr Foster was unconscious for eight weeks.
'Vital assistance'
He said: "I would like to thank the members of the public whom I have been told assisted me at the scene, the paramedics and all other medical staff who tended to me and the police officers who dealt with the incident.
"Finally a really big thank you to the Air Support Unit for getting me airlifted to the hospital safely and quickly."
Mr Foster met PC Richard Stanier and Captain Paul Manklow, who were both on duty at the time of the crash, and was given a tour of the Air Support Unit.
Insp Anne White, of the air support unit, said: "Our helicopter dispatches to a range of critical incidents. It can get to any area in Lancashire quickly, providing vital assistance in an emergency.
"In exceptional circumstances we will help to take people to hospital, which is what happened in this instance.
"We are pleased that Kurt has now made a full recovery and that we were able to provide vital assistance to him on the evening of the accident."