Charity set up in Denise Hendry's name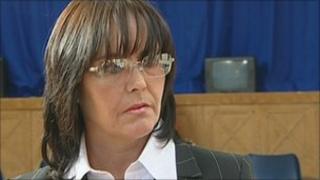 The daughter of former footballer Colin Hendry has set up a charity in the name of her mother Denise, who died after botched cosmetic surgery.
Mrs Hendry, who lived in Lytham St Annes, Lancashire, suffered seven years of ill health following a liposuction operation and died in 2009.
Rheagan Hendry, 21, has launched The Denise Hendry Foundation to help people affected by clinical negligence.
She said the death of her mother brought "complete devastation".
Mrs Hendry suffered a punctured bowel during the procedure at the private Broughton Park Hospital, Preston, in April 2002.
She had several operations to correct the damage but never fully recovered and died in July 2009, aged 43.
Coroner Jennifer Leeming found she died after bacteria spread from her stomach to her brain, causing meningitis, at an inquest into her death in March.
She cited brain inflammation, blood clotting from a drain inserted into her head to relieve pressure and meningitis as the medical cause of death.
She said the surgery was required because of nine perforations of Mrs Hendry's bowel during her abdominal liposuction procedure.
Mr Hendry, who has played for Rangers, Blackburn Rovers and Bolton Wanderers, has said he is disgusted at the doctor who carried out the procedure, Dr Gustaf Aniansson.
Dr Aniansson is still practising in his native Sweden.
Mrs Hendry had to have a series of operations to correct the damage, and it was during one such "high risk" 16-hour operation at Salford Royal Hospital when she died in July 2009.
Speaking on BBC Radio 5 live, Rheagan Hendry said: "In 2009 she had the operation, it took over 16 hours and when she came out she was OK, she was well, she was talking and then she deteriorated quite quickly and then we lost her on 10 July 2009.
"It was complete devastation. Everything falls apart, your whole world just crumbles and I remember looking at everybody's face thinking that I had to pick up and carry on."
Ms Hendry, who has two brothers and a sister, added: "The strength I found in myself that day has been with me ever since.
"You look at the children and you think, how am I going to explain to them, their mum's not coming home, let alone see it in my father's face.
"But with the devastation brought utter closeness."
Dr Aniansson is still listed as practising plastic surgery at the Nacka Hospital in Stockholm.
Sweden's Department of Health said it was aware of Mr Aniansson's actions in the UK and was looking into it.