Learie Constantine honoured by Nelson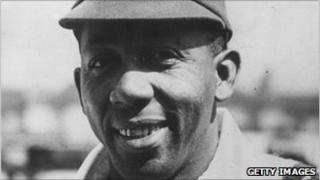 One of West Indian cricket's first superstars has been honoured in the Lancashire town where he lived.
A blue plaque was unveiled in Meredith Street, Nelson, at the former home of Sir Learie Constantine on Friday night.
It was one of the last functions performed by Mayor of Pendle and cricket fan Councillor Tony Beckett, before the end of his year in office.
Mr Beckett said: "This has been talked about for a long time but it never happened and I wanted it this year."
Sir Learie was the first black player to be a professional in the Lancashire League and was one of Britain's highest paid sportsman when he joined Nelson Cricket Club in 1928.
His quick bowling, dashing stroke play and athletic fielding thrilled crowds every time he took to the field.
"He used to get money if he scored a 50 or a century and he soon earned enough to buy his own house," said Mr Beckett.