Bishop of Lancaster promotes Christian Aid Week in city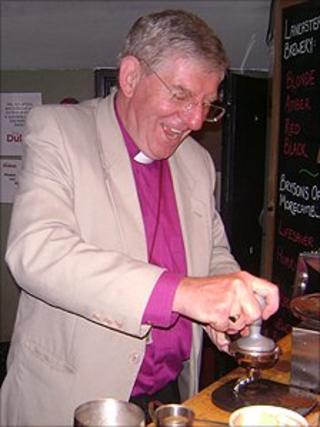 The Bishop of Lancaster swapped a church for a cafe to help promote Christian Aid week (15-21 May).
The Right Reverend Geoff Pearson stepped behind the bar at The Dukes Theatre in Lancaster to serve up Fairtrade lattes and cappuccinos to the city's shoppers.
He said Lancashire should do all it can to help the developing world.
"I very much appreciate the vision of Christian Aid to alleviate poverty," the Bishop added.
"For instance, I have watched a promotion this year about the coffee growers in Nicaragua to see how they have developed their co-operative and how the money has helped their community.
"There are people there being educated who would not have been educated and I do think the way Christian Aid, and other agencies, promote themselves has a lot to be commended."
When asked why we still need to offer such help in what many see as enlightened times the Bishop said: "We live in a sinful, sometimes corrupt world and even though there may not be true democracy in some countries that does not give us the right not to help those who live in true poverty."
Christian Aid alone has 500 projects around the world. Linda McClintock-Tiongco, North West manager for Christian Aid, also sighted the coffee growers in Nicaragua to explain what help Lancashire can be.
'Mind blowing'
She said: "Ten years ago, the coffee growers were living off a dollar a day and living in tin huts. The majority of the farmers were illiterate. Yet where they grow the coffee is a fantastic place and it produces great tasting coffee.
"The farmers couldn't get out of poverty because they had to sell all their coffee through middle traders who took all the profit. Now we have added to their value because they don't have to sell the coffee beans. They now have ground coffee and they are selling direct to international buyers."
Linda says the growth has been staggering. "From being one small co-operative with 18 members, there are now 18 co-operatives with over 600 members."
Becky Hurst has just returned to Lancashire from Christian Aid projects in Cambodia. "It was mind blowing," she said.
"You think you have seen the situation, but only when you are actually there can you fully appreciate the poverty and the efforts to alleviate it. It's about partnerships with local organisations and empowering people to get them out of poverty."
Becky says the Big Society for her is not just about our country pulling together but it is actually a worldwide concept: "It can be easy for us to forget what is happening in the world. There is a lot we can do to challenge the way some of the world is."
The Bishop of Lancaster acknowledged that the county is going through tough economic times but added that we should not allow our own financial difficulties to stop us helping others.
"We have a generous God and, if we want to reflect his nature, then it is good for us to be generous," he said.
"Often it's not about how much or how little we have but how well we respond to the need."
Joe Wilson presents the faith programme on BBC Radio Lancashire from 6am each Sunday.