Lancashire canal clean-up 'aids regeneration'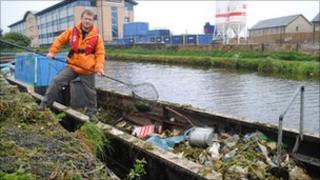 "We're trying to improve the aesthetics and remove the stigma of the canal, it's an asset to anyone who lives by it," says Lee Shepherd.
Mr Shepherd, who runs a Lancashire-based narrowboat hire company, has been part of a team dragging rubbish from the Leeds-Liverpool canal.
He has been joined by a band of volunteers to spend about 12 days over a six-week period pulling items from the waterway.
Beer cans, plastic bags and bottles, road signs, a wheel big enough to suggest it has probably come from a tractor and the stereotypical shopping trolley are among some of the items they have found.
Armed with waterproof clothing, protective gloves and eight foot long fisherman's landing nets, the team worked along the canal in all kinds of weather.
Sunken motorbike
They believe they have pulled out about 12 tonnes of waste material so far, dumping the detritus into waiting skips.
In the past Mr Shepherd has dragged a sunken motorbike from the canal after one of his boats became stuck on it.
British Waterways (BW) which runs the UK's canal system believes volunteer cleaners have saved the organisation more than £10,000 in man hours, which can be used elsewhere on the canal network.
The Leeds-Liverpool canal is 127 miles (204 km) long, making it the longest in Britain. At the Liverpool end it has been extended past the famous Pier Head and Liver Building into Liverpool Docks.
The canal wends its way through Lancashire and Mr Shepherd and the volunteers have been tidying a 23-mile (37km) stretch between Burnley and Blackburn.
The towns bookend the stretch and are historically linked to the county's cotton weaving textile industry for which the canal was a connecting link.
"Living by a canal does affect house prices, but who wants to live next to one that is full of rubbish?" Mr Shepherd asked.
"The canal's been in a bit of a sorry state, a lot of the rubbish is historical, BW only have so many staff and engineers, and I'd rather they spent their time fixing lock gates and checking culverts, stop leaks."
Attract development
Eleven people recently came along to help him out and Mr Shepherd said they were delighted with the results.
"They came back with a full boat and were chuffed to bits. There's over 2,000 miles of canals in the country and it's difficult to police them all," Mr Shepherd added.
Although the team were fishing out rubbish in the Rose Grove area of Burnley, some of it could have drifted from elsewhere due to the flowing nature of canals.
Many of the helpers came from the nearby Reedley Marina and their endeavours have not gone unnoticed.
"Boaters travelling through the area to elsewhere have already remarked on how cleaner they've found the canal, it wasn't as dirty as they were expecting," Mr Shepherd said.
"There's people writing on blogs about how much cleaner it's looking than years ago.
"The canal can attract a lot of development, domestic, commercial. Towns like Burnley and Blackburn can become hubs for Lancashire.
"If you're having a drink at a canalside pub, you want to see boats on the canal, we need to attract those boats there."
'Massive potential'
The Lancashire boat-hire company owner said local councils were looking to canals to aid in regeneration.
"The penny's dropped, local authorities are looking at other areas, say like Manchester, and seeing how the canals have helped regenerate housing and jobs," he added.
"The potential is massive. What we're doing here is costing people nothing and saving thousands.
"People from all over the world have come here to holiday, one of them could be a businessman looking to invest, we need to show them that we care for our area."
Mr Shepherd spent more than 22 years in the army and came to Hapton in east Lancashire as he saw there were great opportunities there.
He believes that because regeneration at the waterside is massive elsewhere in England "slowly it should happen here".
"In the future if we can get little pockets of people to help, we can get a bigger boat and create a proper timetable and hit these problem areas," he said
"Then after that it will only be about picking up the odd can and bottle, and we can focus on doing wildlife projects and improving habitats."