Preston Flag Market square gets revamp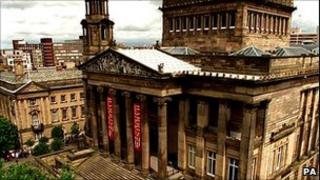 Preston's market square is to get a facelift in time for 2012's Preston Guild festival, the council has said.
Work will start next month to repair broken flags, lay new paving and remove trees which block the view of the Harris Museum and Art Gallery.
New trees will be planted next to Crystal House to replace felled trees.
Mick Lovatt, the city's environment director, said: "We want the Flag Market to be ready and fit for purpose during the Guild."
Preston Guild is a festival held in the city every 20 years and 2012 will mark 833 years since King Henry II initially granted it Guild Merchant - or market town status.
A decree to hold a celebration every 20 years was made in 1542.
The council said the facelift, which will cost between £150,000 to £200,000, will see an improved surface for events and activities, as the city prepares for the 2012 Guild celebrations in 2012.
It is also preparing a bid to the Heritage Lottery Fund to refurbish its cenotaph.
Known as the Flag Market, the market square has been the focal point of the city for eight centuries.