Fleetwood family farm day success for Blackburn Diocese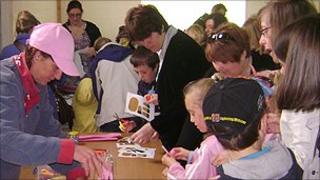 Blackburn Diocese has hailed as "visionary and creative" their Big Day Out for Little People recently held at a farm in Fleetwood, Lancashire.
Around 200 grandparents, parents and children were at Farmer Parrs Animal World for the inaugural Diocesan event.
The day-long event was aimed at introducing youngsters to the concept of God's creation.
Children saw a variety of livestock and farm animals as well as being invited to try out arts and crafts.
Susan Witts, the Diocesan Children's Work Advisor said: "We thought it would be good to get people from all over the county together and demonstrate to them what church is about.
"It is about being together, learning together and having fun."
She said an added bonus was illustrating God's creation: "We want to show how wonderful God is and how he made the world."
The day began with families watching a performance from the puppet ministry at Christ Church in Thornton who told tales of sheep and farmers to both entertain and express their faith.
Rat perched
"The kids love the puppets because they are so bright," Jacqueline Rhodes from the puppet ministry told me. "It's about getting the children involved rather than having, as they may see it, some adults at the front of a church boring and spouting.
"We use music, songs and scripts to tell the message and we know it does get through. All the young people in our church love it."
The biggest cheer was saved for Farmer Parr and his many and varied animals which the youngsters flocked to see.
As they were introduced to the cuddly pleasures of new born lambs, owls and alpacas both parents and children were captivated.
One grandmother from St. Gabriel's in Blackburn had brought her grandson. Pointing him out amongst a crowd of youngsters she told me: "He is sat there mesmerised."
Clifford Roberts from All Hallows in Bispham thoroughly enjoyed his day: "I am really glad I came. I'm a bachelor and I have no family. It's lovely to see all the children here enjoying themselves."
His friend, Sheila Tolson, saw the value of introducing children to this kind of family-friendly religious education: "It's very good because they grow up to know about the Lord Jesus. I would like to let all children know about him and this is a good way to introduce them."
Susan Witts, who at one stage found herself with a rat perched on her head - albeit a clean, friendly one - said this was a valuable day for the Blackburn Diocese; "It's very important. It shows that we are a church together, not just with us but also with our ecumenical friends who are leading some of the sessions here today."
It was certainly a happy day. Perhaps it was best summed up by a family from St. Mary's in Mellor, who had brought four month old Thomas and two year old Charlotte.
Their mum said: "It has been absolutely fantastic, brilliant for the children. It's good that everyone can get together and share their faith."
Joe Wilson presents the faith programme on BBC Radio Lancashire from 6am each Sunday.