Bins left in Preston streets will be confiscated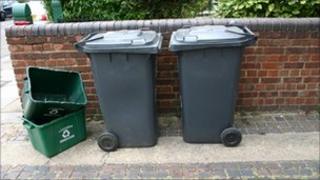 People who leave their emptied bins in the street in Preston will have them confiscated in a pilot scheme which starts next week.
The scheme is being trialled in Wellington Street and St Marks Road. If it is successful it could be rolled out to the rest of the city.
Residents will receive three warnings about bins being left out before they are confiscated.
Once confiscated, people will have to pay £11 for a new one.
Councillor Robert Boswell, cabinet member for community and environment, said: "We receive a lot of complaints about bins being left on the streets as they look unsightly and attract vandalism and fly tipping.
"Anyone who represents a ward with a lot of terraced streets are aware of what a problem this can be.
"It is an issue we are keen to tackle and we believe this approach will help improve the situation in the area it is being implemented."