Afghanistan blast soldier Sgt Rick Clements marries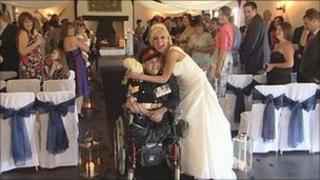 A soldier who lost his legs in a bomb blast in Afghanistan has said he hoped to put the horrors of the past year behind him as he married his partner.
Sgt Rick Clements, from Clitheroe in Lancashire, was serving with the Duke of Lancaster's Regiment when he stepped on a mine while on patrol in May 2010.
Mr Clements, who had been in the army for 14 years, married Leanne Isaacs in Poulton-le-Flyde on Saturday.
"It seemed a long way off at times," he said.
Mr Clements, who also lost part of his arm and suffered serious internal injuries which have left him unable to have children, described his new wife as his "rock".
"She is always there when I need her, when I have been upset and angry," he said.
"Now we are here, hopefully we can put it behind us."
'Absolutely amazing'
Mrs Clements said: "There has definitely been times when I thought our dreams wouldn't come true and we wouldn't get married.
"I didn't think we would be here but I am glad we are."
She added: "I couldn't be without him."
Mr Clements thanked members of the community who had supported the couple with the wedding - the cake and flowers were donated.
"It has been absolutely amazing," he said. "I guess coming from a small town like Clitheroe and the Ribble Valley, people do club together."
Earlier this year, Mr Clements and his regiment were given Freedom of the Borough of Ribble Valley.