Cliviger church closes due to mounting repair bill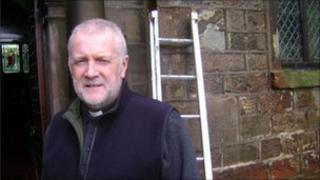 A Georgian church in east Lancashire has been forced to close because the building is unsafe and parishioners are now facing an unexpected bill of £130,000.
Church leaders at St John the Divine in Holme-in-Cliviger were already planning to spend £250,000 to develop the building into a more community based facility.
Those plans are now on hold as they face having to raise close to £400,000 in total to cover further repairs after dry rot was found in an area near to the organ and altar.
"Until we have taken the roof off the east end of the building we don't know how bad the dry rot is," the Reverend Keith Hensall, from St John's, said.
'Lead theft'
St John the Divine church was built in the late 1700s and buried in the church yard is James Yorke Scarlett, a British General who led the charge of the Heavy Brigade in the Crimean War.
The church is also known for its two 15th Century misericords.
Imposingly situated above the village on the main road between Todmorden and Burnley, the peace and seclusion offered by the historic church brings its own difficulties.
"One of our great problems is that we are high on a hill and surrounded by trees. We've been suffering from lead thefts, we're an easy target," Mr Hensall said.
"That's one of the reasons why the whole roof has to be replaced because the thieves have damaged the slates while they have been stealing the lead."
Church leaders are already gearing up to raise £250,000 to update facilities and make the building more accessible for community events.
"Our hope is to develop the church so that we become a more community friendly building and of much wider use to the people of this area," Mr Hensall added.
"We need to have a toilet facility installed and we also need a kitchen area. We were hoping to get the lighting improved and make this building more user friendly."
Those plans are on hold while the immediate dry rot problems are resolved. Experts have established the dry rot has stopped inches short of invading the church's 101-year-old Konica organ.
The wrong sealant had been used on a nearby wall and that had also caused excessive and potentially harmful damp prompting another bill for the church, Mr Hensall said.
Faced with mounting bills Mr Hensall is adamant this is a "mere setback" and when asked if this caused him to question his faith he replied: "It doesn't really, this is God's place.
"What is really encouraging is the spirit and enthusiasm in the village to maintain and develop the church."
Parishioners and church staff are exploring ways of raising funds and would welcome further ideas and support.
Joe Wilson presents the faith programme on BBC Radio Lancashire from 6am each Sunday.