Ex-marine Paul Stredder speaks of Fulwood Tesco shooting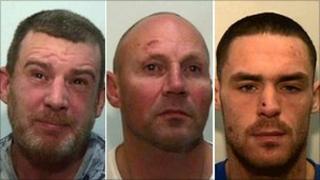 Former Royal Marine Paul Stredder came through Iraq and Afghanistan unscathed but was shot in the back by an armed raider at a Lancashire Tesco store.
Security guard Mr Stredder, 28, was in hospital for six months after encountering Mark Cain at the store in Longsands Lane, Fulwood, on 26 March 2010.
The security guard was returning to his van from the store when Cain put a gun to his head near a cash point.
Mr Stredder flung the cash box at him and fled across the car park.
Cain chased him and fired several shots from 10 yards away.
The Afghanistan and Iraq veteran was hit in the right thigh by a bullet which tore through his muscle and hamstring.
Cain, 48, of Ashfield Rise, Catterall near Preston, was jailed for an indeterminate period for public protection by Preston Crown Court.
He had admitted armed robbery, possession of a firearm with intent to endanger life and wounding with intent.
Fellow gang member Craig Bulger, 51, of Scotland Hall Road, Newton Heath, Manchester, had admitted attempted robbery and possession of a firearm with intent to commit an indictable offence.
He also received an indeterminate sentence.
Bulger also admitted conspiracy to commit robbery across the North of England between 18 August and 5 November 2010 with Wayne O'Day, 25, of Baytree Lane, Middleton, Greater Manchester, who was jailed for six years.
O'Day had no connection with the Lancashire raid.
"Despite having seen active service in war torn countries, the last thing that I ever expected was to get shot in Preston," Mr Stredder said.
He still receives shooting pains in his leg, but the bigger scars have been psychological.
"I had been in combat situations but in the marines I had a gun and was able to fight back. As a guard I was helpless and unarmed."
Unlike some soldiers, Mr Stredder had never suffered psychological effects of his tours of duty. But the raid in Preston has changed that.
'Blown up'
"After being shot I started to suffer post traumatic stress disorder for the first time in my life," he said.
"My time in Afghanistan and Iraq became mixed up with the incident where I was shot in Preston.
"It brought back memories of my colleagues being blown up and shot, I could not believe I left the armed forces without a scratch but was shot in Preston."
Police are mystified why Cain decided to shoot a man who was running away from him.
"That is a question that only Mark Cain can answer," said Supt Lee Halstead.
The officer who heads Titan, the specialist unit formed by five forces in the North West along with North Wales to tackle organised criminals, said the raid had been bungled as the crooks left empty handed.
However police have no doubt they were a highly professional crew who spent months checking potential targets and keeping stolen cars stored ready for raids.
They were brought to justice eight months after the March raid by a Titan operation.
Police began extensive surveillance as the gang carried out several reconnaissance operations checking out possible locations and venues for further cash-in-transit robberies.
They were even spotted looking at two security depots near the M606 in Bradford.
Three of the team were also disturbed near Blackford Bridge service station in Bury by a householder who saw the men with balaclavas and dark clothes at the bottom of his garden.
The garden was six feet away from the garage where a fence post had been removed - so the gang could target the delivery.
He shouted at the men and chased them off.
"It never ceases to amaze me some of the brave things that members of the public do, it is to be applauded," said Det Supt Halstead.
Officers had to decide when to arrest them before they could commit further crimes.
Dept Supt Halstead has no doubts about the impact of their sentencing at Manchester Crown Court.
"I think this team have been involved in this type of criminality for some time," he said.
"They are an extremely dangerous group of individuals, if we had not investigated in the way that we had and convicted them together of this conspiracy, they would have gone on to commit a number of armed robberies.
"And possibly one of those could have turned into a fatal shooting."