Burglar robbed Lancaster coma man's house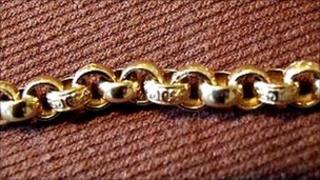 A 19-year-old man who is recovering from a coma in hospital has had his belongings stolen by a thief who burgled his Lancashire home.
The man was being visited by his mother, 34, when the flat they live in on Hala Road, Lancaster, was ransacked.
Lancashire Police said a computer games console as well as several games and number of items of jewellery belonging to him were stolen on Friday.
The teenager is recovering from a near fatal crash which left him in a coma.
One of the items stolen was a 26-inch (65cm), thick, gold chain, with oval and round links, with a pattern on alternate links.
Dc Paul Donnelly said: "This is a dreadful crime made all the more despicable given the circumstances surrounding it.
"I would appeal to anybody who may have noticed anything suspicious on the evening in question to contact police."
The 19-year-old was involved in a collision on Ashton Road, Lancaster on Friday 29 April.
He suffered serious head and back injuries and was initially taken to Royal Lancaster Infirmary before being transferred to Royal Preston Hospital where he remained in a coma for a time.
The teenager is now conscious but is said to have life changing injures.