Dogs abandoned on Hambleton farm were close to death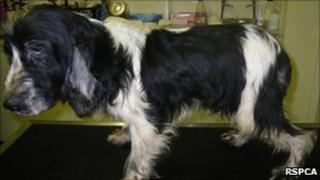 Two emaciated dogs found abandoned on a derelict Fylde Coast farm would have died if they had gone undiscovered, RSPCA officers have said.
Jack, a four-year-old Spaniel, and a two-year-old Lhasa Apso-type, called Vera, both had matted fur, a skin condition and eye infection.
They were found by a member of public who had gone to feed some feral cats at Burrows Farm, Hambleton, last week.
Lancashire RSPCA officers are now trying to trace their owner.
Long neglect
RSPCA inspector Andrea Gillett said: "These dogs were both suffering when they were found.
"It has taken weeks and weeks for them to get into this condition and it'll take weeks and week for us to get them better.
"Someone has badly neglected them over a long period of time and they were in desperate need of some TLC. Fortunately, that is now what they're receiving."
The dogs, which had been locked in a barn, were taken in by the charity and are now being cared for at the Blackpool branch.
Ms Gillett believes the dogs became too much for their owner and were dumped.
"If they hadn't been found they would certainly have died," she added.