Wayne Rooney Blackburn penalty spot sold for £6,101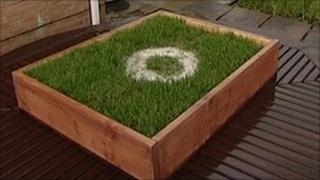 The piece of turf from which Wayne Rooney scored the goal which clinched Manchester United's record 19th league title has sold for more than £6,000.
The penalty spot was cut from Blackburn Rovers' pitch by fan Eddie Maxwell who sold the turf on the internet auction site eBay.
It went for £6,101 when the bidding closed at 1900 BST.
Mr Maxwell, of Blackburn, said the cash would be spent on his Sunday League side, King Edward FC.
Manchester United clinched the Premier League title with a 1-1 draw away to Blackburn in their penultimate game of the season on 14 May.
'Fantastic' figure
Rooney's penalty equaliser gave United a point which meant they could not be caught by second placed Chelsea.
Mr Maxwell originally planned to sell the centre spot before Rooney's penalty made another part of the Ewood Park pitch more notable.
After getting permission from the club - who were laying a new pitch - Mr Maxwell dug out the fateful spot and encased it in a wooden border.
Speaking after the close of bidding, he said: "It's absolutely fantastic. Six thousand pounds for a football team of our grassroots level is absolutely brilliant."
Asked if the windfall could make his team the big spenders of their league, he said: "No doubt I'll be getting a few extra players wanting to play for us, but some will be getting a definite no.
"We'll keep our feet on the ground and run the club properly."
It costs about £1,400 a season to run the club and Mr Maxwell said the winning bid would keep them going for "a good few years".