New site sought for Chorley's rescued Disraeli statue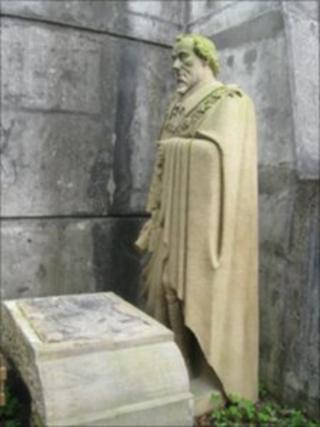 Benjamin Disraeli was a British statesman, twice serving as prime minister, and is credited as being instrumental in helping develop the modern Conservative Party.
Throughout the UK, statues were erected in tribute to his work on social reform, from labour exploitation and health to unions.
His image still stands in London's Parliament Square, beside Liverpool's St George's Hall and overlooking traffic in Ormskirk, Lancashire.
A Disraeli statue was also situated in another Lancashire town - Chorley - and stood above a shop for nearly 125 years until problems with the roof meant the statue had to be taken down.
The council is now seeking a new permanent home for the structure so people can appreciate its "magnificence"
The monument was erected by the Primrose League, an organisation that worked from 1883 to the 1960s to increase the popularity of traditional Conservative policies.
They wanted to honour Disraeli, who was awarded a peerage from Queen Victoria in 1876.
The statue was mounted in a prominent position on the building and looked down on passersby on the corner of Cleveland Street and Chapel Street until the shop's owners had problems with the building's roof.
'Prominent position'
Peter Goldsworthy, leader of Chorley Council, said of the shop's owners: "They were going to sell it as they couldn't afford to put it back."
"We had people telling us we had to keep it in the town and we offered to take it off their hands."
Although Disraeli did not come from the Chorley area, the statue had been made locally.
"This is one of three made in Chorley, one went to Bolton, one here, but we've no idea where the third went," added Mr Goldsworthy.
The statues of Disraeli, which stand about 12ft (3.6m) high, were created after he had been elevated to the position of Earl of Beaconsfield by Queen Victoria and then entered the House of Lords.
"We are now looking for the best place to put it on display in Chorley and we want people to let us know where they think it should go," Mr Goldsworthy added.
"Some people have suggested the square at the rear of the town hall and others have said it could be part of the new Asda development but we want to hear what others think.
"We want to choose somewhere that is practical but at the same time have it in a prominent position so people can see it and appreciate its magnificence."
The council will allow about three weeks for suggestions to be submitted and when a suitable place is found they expect to make an official unveiling.