'Death threats' claim by Blackburn man in custody row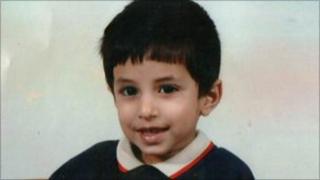 A Lancashire man involved in a custody battle in Pakistan said he fears for his life after allegedly receiving death threats.
Abid Ali, 34, wants to return to Blackburn with his half-brother seven-year-old Qasim Akbar, who lost his family in a car crash.
Mr Ali has been granted custody but an appeal by family friends in Pakistan means he cannot leave the country.
Police in Pakistan said Mr Ali should contact them if he has safety concerns.
Following a hearing brought by the family friends at the Sharia Court in Mirpur earlier, the custody case has been adjourned until September.
Qasim, who was born in the UK, was orphaned when his mother, father and two sisters were all killed in a car crash in Pakistan on New Year's Day.
Mr Ali flew out to Mirpur in Pakistan-administered Kashmir after the tragedy to bring Qasim home to Blackburn.
But family friends in Mirpur are contesting custody of the boy claiming he has lived in the country for more than two years.
A judge then ruled that the boy must stay in Pakistan while their appeal is heard.
Mr Ali claimed he had received "death threats."
"I'm very fearful of my safety," he said. "I could be killed, shot or my brother could be kidnapped - anything could happen here."
Mr Ali reported the threats to the Thol police station in Mirpur.
A senior Pakistan police officer told the BBC that Abid Ali should contact them again if he has any concerns about his safety.
Zaffer Haider Shah said: "I've only been here a short time but if Mr Ali is worried then he shouldn't hesitate to contact me personally ."
Meanwhile, Mr Ali's wife, Noreen, and his four children have not seen him for five months.
"We really miss Abid and Qasim," she said.
'Safe and sound'
"I hope they come back safe and sound - he's just a kid."
Friends of Mr Ali in Blackburn are also concerned about him.
"I don't understand, Abid and Qasim are British," said Naeem Fazal, who has known Mr Ali for 18 years.
"It's ridiculous why the government can't do more to get them back here."
Meanwhile, Blackburn MP Jack Straw is backing Mr Ali's case and has raised it with Foreign Secretary William Hague.
A spokesman for the Foreign and Commonwealth Office said they were aware of the case but added that the safety of British nationals overseas was "the responsibility of the local law enforcement authorities."