Jamie Clyde fiancee 'lost' after St Michael's-on-Wyre van crash death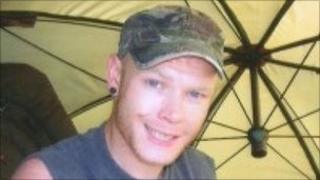 The fiancee of a man who died in a head-on crash in Lancashire has said she is "lost without him".
Father-of-two Jamie Clyde, 31, of Kirkham, died after being airlifted to the Royal Preston Hospital after a head-on collision on Friday morning.
The crash between Mr Clyde's white van and a lorry happened in St Michael's Road, outside St Michael's-on-Wyre.
His fiancee Natasha Cartmell said they had been engaged for five years, but had not been able to afford to marry.
Mr Clyde had suffered severe head injuries and was treated at the scene, but died shortly after arriving at hospital by air ambulance.
The lorry driver was uninjured.
Miss Cartmell, 23, said they had been together for eight years in total and had had two children, six-year-old Charley and four-year-old Eli.
She said: "Jamie loved fishing and he used to take the kids with him.
"On some occasions I would join them and we would make it a family outing."
'Cheeky smile'
She said her fiancee had been a keen cyclist and used to cycle with the children in the park.
Miss Cartmell added: "I am lost without him, I'll miss him making me giggle with his cheeky smile."
Mr Clyde's mother, Sharon Heyes, 56, said: "He was very loving and thoughtful and it never bothered him to give me a kiss hello or goodbye in front of his friends.
"He had very strong views and was never afraid to voice his opinions. I know we will all miss him."
Police have appealed for witnesses to contact them.