Andrew Stephenson MP tackles train troublemakers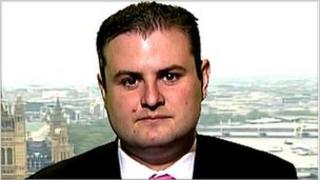 An MP who intervened when two youths were causing trouble on a train said he acted on impulse.
Andrew Stephenson, Conservative MP for Pendle, was on the Skipton to London train when two youths tried to avoid paying a £1.20 fare.
The pair were forced to pay but refused to leave the train at Bingley when the ticket inspector seized a young person's railcard off one of them.
The 6ft 4ins MP warned them they risked arrest if they did not leave.
The MP had intervened with another passenger to persuade the youths to get off.
As they left the train at the unmanned Bingley station, one of the pair spat at the ticket inspector.
"I don't think anybody working for a company or in a public service should be treated in this way," said Mr Stephenson, who was elected in 2010.
He added: "The ticket inspector was being verbally abused, I just decided to do my duty as an ordinary member of the public and get involved.
"It was probably impulsive."
The MP said more members of the public should try to stop anti-social behaviour but he also pointed out: "I think people need to bear in mind their own personal safety. I'm fairly young, I'm six feet four and for me it is slightly easier to get involved.
"But I do think, the more ordinary members of the public react and speak out against anti-social behaviour the less of it there would be around."