Leyland brass band searches for new home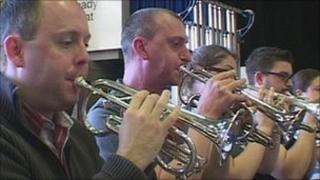 A world-famous brass band has been forced to re-think a return to its Lancashire home after concerns were raised about the noise.
The Leyland Band, which was established in 1946 as the Leyland Motors Band, has more recently been based in Warrington and Wigan.
Determined to return to Leyland, it applied to convert an industrial unit in the town into a rehearsal space.
But neighbours raised a petition and the application was withdrawn.
People living in Gower Court, near the proposed site, said the noise levels would not be acceptable.
Not ideal
Resident John Mansley said: "We're in the immediate vicinity of this unit they are proposing to use, it is really noise levels that are the main item."
Allan Littlemore, chairman of the band, said: "Most of the people come from the central Lancashire area - we just need to come back here.
"We will have Leyland Band rehearsing on a long-term lease, who with and exactly where remains to be seen."
South Ribble Council said the application was submitted in May but withdrawn soon afterwards.
Council Leader Margaret Smith said the council would do all it could to help the band find a new home.
"I know they have somewhere at the moment but it's not ideal so we'll keep working very hard at it," she said.
The band is made up of more than 30 musicians and has members from as far away as Norway, Australia and Luxemburg.
It has recorded more than 40 records and won the 1994 British Open Championships, the All England Masters in 1989, 1992 and 2003, and the 2005 National Brass Band Championships.