Sinking arch Clitheroe viaduct repair plan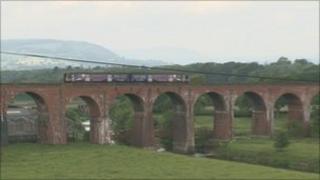 The longest railway viaduct in Lancashire is to undergo structural repairs after it was discovered one of its arches had started to sink.
The Victorian viaduct, known locally as Whalley Arches, carries trains between Clitheroe and Manchester.
Network Rail engineers have found that one of its 49 arches began to slip because wooden pilings have rotted.
New steel pilings will be inserted and the underneath of the arch will be sprayed with concrete.
The work is expected to be completed by next spring.
'Perfectly acceptable'
Network Rail spokesman Keith Lumley said: "It's not something that's serious enough that it needs to be tackled now and could stop the train line running.
"Train services on the viaduct have a 45mph limit and that's perfectly acceptable for the type of distortion there is in the viaduct.
"Long term if we don't do anything about it then yes it would become a much more serious problem."
Engineers have been using remote sensors since February to monitor the brick structure built in 1848.
Repairs on the Grade ll-listed structure will need to be agreed by English Heritage before they go ahead.