Sue Ryder care home patient was 'trapped' in her bed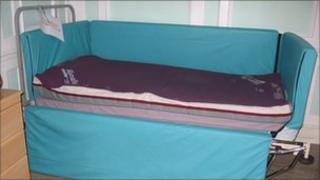 A care home charity has been fined £65,000 over the death of a 40-year-old woman, who was found trapped between a mattress and a bed rail.
Charlotte Young, who had Huntingdon's disease, was found unconscious in June 2008 at the Sue Ryder Care Home in Bamber Bridge, Lancashire.
Sue Ryder Care, admitted breaching health and safety legislation.
The charity, which has its head office in Suffolk, was also ordered to pay £35,000 costs by Preston Crown Court.
The Health and Safety Executive (HSE) found the home at Cuerden Hall failed to manage the risks associated with the equipment used on Mrs Young's bed.
As her condition made her prone to involuntary movements, a specialist cushioning system was used along with the bed rails but the court heard the equipment was not used correctly by staff, creating a risk.
The HSE investigation found Mrs Young was able to knock her bed rail out of position because it was not the right size for her bed.
'Care warning'
This created a gap between her bed rail and mattress in which she became trapped and was unable to breathe.
Speaking after the hearing, HSE Principal Inspector David Shorrock said: "A mother has lost her life because of a systemic failure on the part of Sue Ryder Care at Cuerden Hall.
"Because the home was oblivious to the risks associated with this kind of equipment, they had no proper risk assessments in place. The maintenance of the equipment was also poor and staff were not trained to spot any problems which could have arisen in Mrs Young's case."
Sue Ryder Care, of King Street in Sudbury, Suffolk, is one of the UK's largest providers of palliative care.
A statement from Sue Ryder Care said staff were "deeply saddened" at Charlotte Young's death.
It said the organisation had amended policies at its homes across the country, implemented new training for staff and had introduced an annual bed replacement programme.