Lancashire strike action: Hundreds join rallies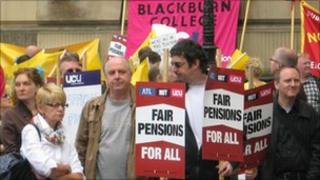 Hundreds of public sector workers staged rallies in Preston and Lancaster as part of nationwide strike action over proposed pension changes.
More than 350 schools were closed or partially closed across the county as teachers belonging to the National Union of Teachers (NUT) walked out.
Unions have said nationally 750,000 teachers, civil servants, and immigration officials were taking part.
About 300 gathered in Preston's Flag Market and many more in Lancaster.
Out of almost 750 schools within the area, nearly 40% were affected by the action.
Some private businesses laid on help for parents with childcare problems.
Online advertising firm Local Link-Up in Lancaster provided help to the parents of six children who were taken into the office because they had no childcare provision.
Court closed
Meanwhile Blackpool Pleasure Beach laid on extra staff, hoping that some families would take advantage of the extra time they had together with their children.
Of the schools overseen by Lancashire County Council, more than 250 out of 626 schools were closed.
In Blackburn, 65 out of 73 schools were affected and in Blackpool, 34 out of 40 schools were affected.
Members of the Public and Commercial Services Union (PCS), which includes customs and immigration staff, were also taking part in the strike.
A spokesman from Blackpool International Airport said it was not affected by workers from the UK Borders Agency joining the strikes.
Workers at Lancashire's court services, who are members of the PCS, were also on strike.
Leyland Magistrates' Court was closed and work was transferred to Preston Magistrates' Court.
A Ministry of Justice spokesman said: "We have robust contingency plans in place which will prioritise the delivery of our most essential services. These include custody cases and urgent family cases.
"Our aim is to keep disruption to a minimum. Our intention is to continue to work with all staff to deliver our services to the public."
'Financially sound'
The NUT, which voted to strike in April, said the pension changes proposed by the government will mean they have to work longer, pay more and get less when they retire.
Lancashire NUT secretary, Ken Cridland said the current pension scheme was financially sound and should not be changed.
He said: "We're not asking for a penny from the taxpayer to bail out our pension scheme.
"If there is an evaluation of our scheme, the results would show that no great changes are really needed and the teachers in previous negotiations in 2006 and the public sector workers said if more money was needed we would pay it from our wages.
"The government is not really telling the truth about what is going on."
Information about all school closures can be found on council websites.
John Murphy, the North West's spokesman for the University College Union (UCU) said: "Why is it that something that 20 or 30 years ago was seen as perfectly normal and acceptable, that people should have a final salary pension scheme, has somehow become a guilty secret for public sector workers?"
Cabinet Office Minister Francis Maude said: "What today has shown is that the vast majority of hard-working public sector employees do not support today's premature strike...
"Reform of public sector pensions is inevitable, but we will ensure that public sector pensions will still be among the very best, with a guaranteed pension which very few private sector staff now enjoy. But they will be paid later because people live longer."